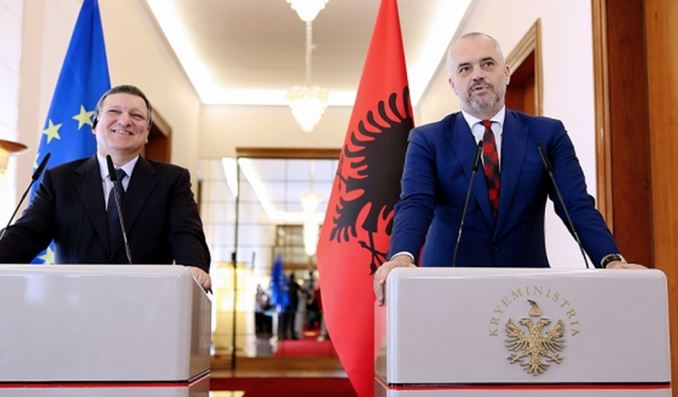 Along with other Western Balkan countries, Albania was recognised as a potential country for EU membership in 2003. A Stabilisation and Association Agreement (SAA) entered into force on 1 April 2009. In the same month, Albania submitted its application for EU membership. The Commission recommended that Albania be granted EU candidate status in October 2013. The Commission reconfirmed its recommendation in its June 2014 report to the Council.
The EU Enlargement Commissioner, Štefan Füle, backed Albania's candidacy bid on 4 June, and praised the country's efforts to reform. "Based on our findings we confirm – beyond any doubt, with no conditionality or reservations – the recommendation that the member states should grant Albania candidate status. We have based this recommendation on the continued political will to act decisively in the fight against corruption and organised crime and on the commitment to a comprehensive judicial reform," Füle said in a press release.
Albania must "intensify its anti-corruption efforts and implement its anti-corruption strategy and action plan reform of the public administration and the judiciary, the fight against organised crime and corruption, the protection of human rights and anti-discrimination policies including in the area of minorities and their equal treatment".
In a joint press conference June 30, 2014, with Albanian Prime Minister Edi Rama, European Commission President Hose Emanuel Barroso  congratulated Albania for the candidate status and said that the European Commission will be on Albania's side now that the integration process enters a new stage, which is the opening of accession negotiations. Barroso described the regional cooperation as a crucial aspect of Albania's pathway to EU, urging the Balkans to promote cooperation by creating joint cooperation tables. Albanian Prime Minister Edi Rama said the integration agenda will be one of the top priorities, noting that in September the High-Level Dialogue between Albania and the EU will be held.